You are currently browsing the monthly archive for November 2008.
From the lens of Dan Pusateri, enjoy!
From the March 17th 1995 issue of City Magazine, we have Luke's Obit. I don't have a credit for the author of this piece (H.B. Ward?), perhaps Chuck or Pat could fill in the rest of the details.
IN MEMORIAM
Andrew L. Ogrodowski, a lifelong local rocker known mainly as Luke Warm to his friends (and a few enemies), died on Friday, March 17, in his bedroom in his mother's home in Greece. It was a warm spring evening and he'd been listening to the radio. He was 35.
His sudden death forces us to press the details of his life into some sort of comprehensible whole. Two years ago, when he was he was 33, Luke laughed, saying, "I'm just a guy who was saved by glitter and glam rock in the '70's," as he tended bar downtown at the Abyss. As Luke perceived his life and tried – as he often did, to understand what it meant – that was no exaggeration at all.
The guy just wasn't made to be normal. He invented and adopted the name Luke Warm around 1972, as a 12-year-old boy, to complete the elaborate stage persona he had conceived for his first rock band. After an early introduction to NYC glam rockers like T Rex, Luke gradually became the premier collector of rare T Rex records and memorabilia in the US.
Early in life. Luke stopped trying to fit in. "I remember a Red Wings game in the '70's," recalled Luke's friend and fellow musician Pat Lowerey on the phone recently. "There's Luke walking down the stairs of Silver Stadium in a cape and full New York Dolls makeup in broad daylight. To him it was normal."
Luke's sense of style gave his rebellious energy an outlet and helped him find an identity. But unlike so many fashion bags, he never confused style with basic human grace. Lowerey, once the drummer for Luke's best-known band, SLT, recalls a defining moment in Luke's life. At one of SLT's club dates, a band of hard core, head-shaved punks had been slated to open for them. Listening to them as SLT waited to go on, Luke appreciated the opening band's energy at first, but then noticed that their lyrics were full of Anti-Semitic, homophobic and racist slurs. "These guys are skinheads!" he said to Lowerey.
That made him mad. "You know how some bands are too cool, like, 'Don't approach me?'" said Lowery. "Well, Luke wasn't like that at all. As soon as he got on stage he just ripped into that band: 'I Love Jews! I love fags! I live with a black chick!' He was pointing at the skinheads and yelling into the mike, 'We got a bunch of fuckin' Nazis opening our show?'"
Like no one else in Rochester, Luke loved and devoted himself to the local rock scene. In the '80's he worked as a DJ and bartender (notably at Scorgies). But a career at the perimeter of the slam pit just wasn't involved enough for him. His consuming love of music led him to moonlight as the music editor of Downtown magazine. Luke's prose was as inflamed and confrontational as the music he loved. In an excerpt from the opening of one of his concert reviews (of a local band called "The Bulus") in 1983, Luke demonstrated his fierce allegiance to Rochester Rockers.
"In this day and age when words mean nothing and dance means everything, it's nice to see there are bands around to confront this idiotic way of thinking with an iron fist and the Bulus are that type of band. There is nothing wrong with mindless pop, rather fun its dumb way, but there should always be an imaginative, agressive edge to rock and roll to keep it on its often wobbly feet."
Luke played guitar back then, too, but not, as most remember it, very well. Then, sometime in the summer of '90, Luke disappeared from Rochester's nightclub world. For 18 months, he spent his free time practicing by playing along with his collection of blues records. When he re-emerged, in early '92, he was ready to form SLT – a band whose combination of power, intelligence, and expertise came close to what Luke had been grasping at for most of his life.
The band lasted little more than a year. But SLT is now legendary among Rochester rockers and Luke's vision, infectious energy, and confidence in the band ("We're the best rock and roll band in the world," he used to shout) had everything to do with the legacy SLT left in its wake. Lowerey put it simply: "He wanted to combine the passion of music with intelligent lyrics and play it with such force."
Luke's death on March 17 cast a sad and sentimental pall over a crowd of Rochesterians known for dispassionate cool. His wake packed the Miller Funeral Home on Monroe Avenue with hundreds of black-leather rock and roll rebels. The line of tattooed, pierced and crying mourners strung itself through four rooms, heads shaking.
Luke's mother, Helen Ogrodowski, welcomed every downcast punk who'd knelt before his closed coffin with a warm, appreciative hug. The phrase "He was a sweet guy, wasn't he" was repeated over and over.
"He was crazy," said Lowerey. "You could just call him up and he would do anything. If I needed him to do cartwheels naked down Monroe Avenue because I didn't feel good, he'd do it immediately."
"He was a great friend."
Audio clip: Adobe Flash Player (version 9 or above) is required to play this audio clip. Download the latest version here. You also need to have JavaScript enabled in your browser.
audio clip courtesy Simon Ribas of the Presstones, see comments for details
Really enjoyed the show.  Left without getting your #.  You know us unemployed have to work together.
Don't let the hair fool you I'm old enough.
Lou the Italian
Flower City Jukebox Vol. 2:  "Rochester Rock n Rollercoaster Ride"
Hi-Techs: Boogaloo Rendezvous
The Most: Rockerfeller
The Targets: White Corvette
The Times: Rock 'n Roll Reds
Hit & Run: I Don't Wanna (demo)
Hypermarket: Something You Can Do For Yourself (unreleased)
Lotus STP: Townie Clan
The Fugitives: Screaming
Mission Emission: Postcard
New Math: The Restless Kind
The Projectiles: I'm Alone
Lalaland: Nobody's Help
The Chinchillas: Love & War
Colorblind James Experience: Purple & Gold (outtake)
Personal Effects: Porch (live at Jazzberrys '85)
The Rumbles: Third Uncle (live at The Warehouse) (Brian Eno cover)
Invisible Party: Waking World (live)
Nod: Power Doesn't Need It (unreleased)
The Squires Of The Subterrain: This Old Raggedy Town
jump over to www.earcandyarchive.com to take a listen or download.
mega thanks to Tom Kohn for tracks 2,3,4 and to Jim Huie who supplied the lion's helping of everything else.
First off, let me just say thanks to everyone involved with the Scorgies Reunion. I am sure my fellow Press Tones feel the same way (although some have trouble typing). Peter had our set planned out pretty good, clocking in at around 42 minutes, which would have allowed us a brief encore. For whatever reason, we ran long, and got yanked off the stage (set times were pretty rigid, and I'm not complaining, just letting you know), before we got the chance to do another number. So for your listening pleasure, here's a live cut from when we played Abilene over the summer. It's a song we usually finished the night with, called "Go Insane." Back in the old days, Peter would take the solos, and at the end of the song, just leave his guitar in front of his amp until it started feeding back and annoying people. And then he'd wait some more before unplugging it. Flash forward, and now I do the lead work, and on this occasion, I started bending the strings pretty far, and so Peter started doing whale noises through the mic. It was a hoot.
Anyway, you paid for it, so here's the song. . .
Audio clip: Adobe Flash Player (version 9 or above) is required to play this audio clip. Download the latest version here. You also need to have JavaScript enabled in your browser.
Somehow I wound up with a back stage pass for the Scorgie's Reunion show at the German House in Rochester, NY. I took a few photos and had good time. It was really great to see everyone.
From the J. Laben Archives. Enjoy:
What is with these weird hairstyles, this strange music? Are they serious? Are they poking fun? Or both?
The Ramones, a rock 'n' roll band of current popularity, have a song called "Teenage Lobotomy." There are those who would suggest they sing from experience. Take, for example, the words to their song "Rock 'n' Roll High School":
"I don't care about history,
Rock, rock, rock 'n' roll high school,
Cuz that's not where I wanna be,
Rock, rock, rock '«' roll high school,
I just wanna have some kicks,
I just wanna get some chicks,
Rock, rock, rock, rock, rock 'n' roll hi-igh school."
Appearance is another strike against any claims to great mental stature on the part of the band. Tight jeans, sneakers and leather jackets, a real greasy-mean look, tell you these are the kind of guys who need permission from their parole officers to go on high school field trips.
But believe the image and you're the fool. They've suckered you with rock 'n' roll's favorite gimmick, theatrics, to sell you rockers' favorite message, irrever¬ence. The Ramones' lyrics and looks are mostly suitable trappings for their brand of music — high-speed, high-energy and high-volume rock 'n' roll.
Boy, they've got their nerve. But boy, they have their fun.
The Ramones pale in comparison with some of the other music going on these days within what is called the "New Wave."
There is Fad Gadget, the band that uses a Black & Decker speed drill as an instrument. There is CRASH COURSE In Science, whose members make music with kitchen appliances and, in one song, become robots reading a cake mix: "Extract contents for cakes in the home."
(more vintage theorizing after the jump!)
Like most people, I have a scattering of old newspapers, cassettes, videos, and records cluttering up my closet space. When I have the time, I try to convert cassettes and videos to CD's, DVD's, or stick it in a file on my computer (for YouTube or some other proper place down the line). Old mags and news clips get into bags like comic books or binders. All this takes a bit of time and expense, which I currently do not have. I only hope that when I kick it, that the cool stuff doesn't end up in the trash. I already lost cassettes and videos due to deterioration; even some early Sony CD's with labels won't play anymore. A friend of mine has a cassette of John Cale playing at Scorgies. I'm hoping that he will preserve stuff like that. I have some video of Rick Baker & The Commercials now on DVD that I'm dying to upload. Many friends have bootleg cassettes of The Insiders that are impeccable. My suggestion is to preserve these things, only if you have the time or if the stuff is worth it in your heart. The best way, for now, is to get it on the internet so other fans can check it out. I thank Stan The Man, Tom Kohn, and others for getting this web site out. It may be a good starting place for your posters, stories, and a few website links to bands that are still at it! It doesn't hurt to use a professional studio, if you have some bucks to convert and properly preserve stuff as well (not quite like the Eastman House working on 1920's films, but to make stuff watchable and/or audible!).
I asked Scorgie – what did "Weekends" mean on the posters….he laughed so hard…it really meant "weekends" – in the beginning, that's when he had music scheduled – on the weekends! Not during the week – music on the "WEEKENDS!"
It was a great night of music and old friends and acquaintances at The German House Friday night. I got their at seven and immediately started reminiscing about bands that played at Scorgies with Del Rivers and Brian Goodman. I came up with a few that I haven't heard mentioned. The Rockats, (http://www.myspace.com/therockats )  a rockabilly band from New York City played their a few times and Brian said they had a record release party at the Top of the Plaza. Another band  was The Memphis Rockabilly Band (http://www.memphisrockabillyband.com/) who were their a few times and a lot of fun. The third I can remember was the Glen Phillips band (http://www.answers.com/topic/glenn-phillip)  who played all instrumentals and were a little different then the regular Scorgie's bands. He was a great guitar player!! I hope those three can jog some of your memories. Too Tall Steve walked in (http://myspace.com/tootallblues) and we immediately started laughing about the only time we played at Scorgies in my first band Crawlspace and our bass player wrapped his foot around the guitar chord and his bass head came crashing down!! Don't ask me what year, maybe '84-86′ ? I think Scorgie had some battle of the bands thing going. Well, it was great seeing those bands again and they sounded great !! I have to get that new Presstones cd !! Maybe Schwittek  is think of giving me one.
Personal Effects super fan Ed Richter shot some great footage from stage side during the Personal Effects set. Great Pics, Ed!
Ok, all right…  I'll admit it. Like every other damn guy at Scorgies I had a crush on Peggy Fournier. I had seen the Hi-Techs live many times and oh my god there was Peggy.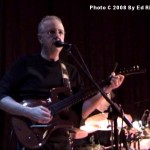 One of my best friends from the late 1970's-1980's was Bob Martin; we were Beatles collectors and then it happened. The Hi-Tech's changed their name to PERSONAL EFFECTS. I thought I was in. I asked Bob what the deal was with Peggy. he said "forget it, MAN! Our drummer is her man!" OH, LOL!
Well anyway, Personal Effects went on to produce the greatest local music of all time. Yes, they were the tightest, they had the best instruments and yes! They were the best.! I guess this makes me a Personal Effects Fan Boy.
I love you Peggy, Paul, Bernie and of course my close friend Bob Martin.
More photos from the show after the jump:
What a show; everyone I've spoken to was totally blown away. I'm still firing on all cylinders, even a few that I didn't even know I had anymore! I saw so many smiles Friday night, so many people genuinely happy to see each other.I only wish I could've stopped by Abilene to spend more time with everyone. But by that time my knees and feet were in need of hydrotherapy (too much dancing and bopping around trying to say hi to everyone!)
It's hard to say without sounding too sappy, but one of the things I took away from my Scorgies days was a sense of community, I felt like I belonged there. Getting together with everyone at the German House re-affirmed that. While it's been said that "you can never go back" that doesn't mean you can't have some fun trying to.
At the end of the show, someone grabbed me and asked me "Did I hear you right, did you say this is was the first Scorgies reunion?" when I replied that I had indeed said that; she replied "good! That's what I hoped you said!" All I can say is that if Tom, Vanessa, John and the hard working BopArts crew want to do this again, I'll be on board!
Check out some more photos after the jump:
I witnessed quite a few shows there. It was the place to be to hear original new music! The energy was high and the music was raw and exciting.  New Math was my favorite from back then.  Without new music, there can be no old music, music that we fall in love with and remember our whole lives. Music that gets into your soul, makes you feel alive!
I had the pleasure of working for Scorgie in the second phase of live music in the early 90s. It was a new feel and very exciting, but nothing can compare to the earlier phase. Scorgie would give ya the shirt off his back, if he still had it after a few tequilas and a rumble.
Thanks Tom Kohn for making last night happen.  It was AWESOME!
Thanks Don for everything!
Jon Dubner
The show was a blast. Long live Scorgies and thanks to all who pulled this thing together.
"International" tribute at the PCL Link Dump
Peace – John
Video courtesy johhnyuma
Just like in the old days, the infamous Scorgies videographers were in full force at the reunion. While Russ Lunn was shooting hi-def in the balcony, Ed Richter was taping from the stage and from the floor. Ed sent me this yesterday but, alas, I was too tired to post it.
Well kids it happened. Oh My God. NEW MATH Live. PERSONAL EFFECTS Live, THE PRESS TONES Live. If you read this Blog and you missed the show you really missed a part of Rochester's recent History. Forget Renaissance Square. Forget the new Paetec office Bldg. None of that matters! History was made last night at the German House when the greatest reunion of Rochester's legendary Bar & Club Scorgies happened. 400 plus friends shared a beautiful experience! The Music we loved, the friends we loved we all there.

Some personal friends: The Beardsley Sisters, Bob Martin, Gary Trainer, Peggy & Paul of course. Even an old girlfriend Roxanne showed up. Dick Storms, Dwayne Sherwood, Rock & Roll Joel and a guy we called Mark Mead. The whole cast of the movie showed up. Never knew this guy (Mark Mead) but everyone always talked about him.
Here's the best part we shot a multiple camera video of it all. With the grace of the gods it will be available soon. Special thanks to Russ Lunn for the master shots of the show. What Can I say? If you were alive and at Scorgies in 1982 and you were at the show last night you would understand my feelings.
ED RICHTER 11-22-08
(More photos after the jump)
In 1985 Scorgie's opened Yuk Yuk's which later became Hiccups and then finally The Comedy Club at Scorgie's.  The Funny Bone was our competition down the street and was never housed at 150 Andrews St…In 1993 – Scorge went back to music for one year – and in July of 1994 – we closed.  Thanks to everyone who made that reunion just a great "moment in time."  We too now have closure and greatly appreciate Tom's outstanding efforts in bringing this show and reunion to reality – what a blast from the past that was for all!  Thanks again to everyone.
as soon as i walked in to get in line i saw three people i recognized. the keith richards guy, the johhny ramone guy and some other guy i never knew the name of. they seemed to recognize me. the air was buzzing with a feeling like finding an old favorite shirt and having it still fit. it was awesome! I walked in and saw people i hadn't seen in over fifteen years. a few i was nervous about but as soon as our eyes met it vanished.
we laughed and looked at photos of each others kids. some people had thier kids there. my daughter would sooner have slit her own throat than be a part of our pathetic past.  i got tears in my eyes several times looking around at the sheer joy of everybody there. the bands were awesome. that new math singer was easy on the eyes of this "older woman".  when laben came out to sing riverview we instinctivley lined up to do the dance. i haven't danced that much in a long time. i stayed out real late-past midnight! Abilene was cool but got too crowded for me. i got sober 11 years ago so i don't really go to shows or bars much. the thought of a drink didn't even occur to me as i basked in the stage light. my feet moved on thier own. i was dancing for joy.
Last evening was a blast! I am so glad that I went. I was on the fence because I am not real proud of the way I have aged. If I hadn't gone I would have seen pictures and been very upset. The bands did an awesome job. If I didn't get tired so early I would have thought I was 19 again.  Thank you to everyone who made it all happen. When I figure out how to post pictures or who to send them to I will. I was great to see all the familiar faces!
Patti (Street) Steeb
Tonight we played the Scorgies Reunion, along with New Math and The Press Tones. And it was a blast. All three of us played our asses off. The Press Tones played first and just absolutely rocked the house. Jeff Laben of the Cliches got up and did Riverview Restaurant with them and it was just like being at Scorgies again. The Press Tones were in great form – tight, exciting and showcasing their songwriting prowess.
New Math was up next. They opened with We Walk Among You (at least that's the way I remember it), and I was dumbstruck. The band sounded great musically, but when the vocals started I really had to look twice to see if it was Kevin Patrick singing. I mean, I knew it wasn't, but the fellow that was up there REALLY channeled Kevin's vocal sound, style, delivery and tenor. Scary, almost. But before New Math, The Targets, with Sue Metro, did a couple of songs. Lots of fun. I'll confess that they were a time before I became part of the Scorgies scene, but is it ever too late to become a fan?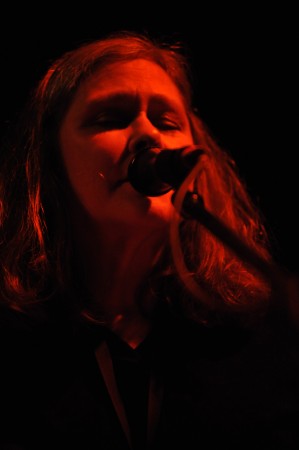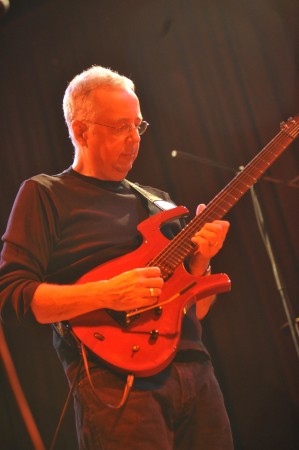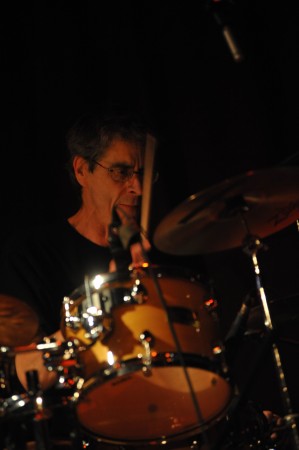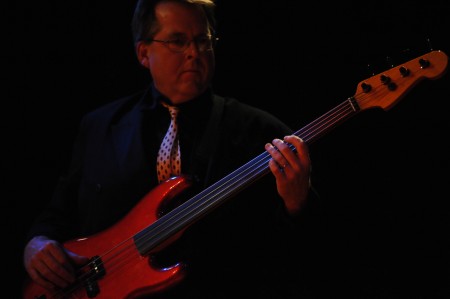 We (Personal Effects) hit the stage pretty close to 10. First of all, it felt just as relaxed and natural as it always did when we played. I don't know what it is about this band, but I've never felt nervous playing with them – just excited and joyous. And tonight, that seemed to come through. We played one of the best sets we've ever played and it didn't matter that it was 20 years later.
The one really cool thing is that, for me, it brought closure to a time that sort of never came to a proper end, but lets it remain timeless. Tonight, it was great to have the last gig we never had. Great to run into long-not-seen old friends. Great to still be able to rip it up and pull off a great set. Tonight it was clear – we are just a rock and roll band who really loves playing music together. Sure, we may play again as Personal Effects. But if we don't, we just closed the perfect door.
Thanks to the entire community for the opportunity to do this – with special kudos to Tom Kohn, The Press Tones, New Math, the other members of Personal Effects (past and present), Duane Sherwood, Stan Merrill and everyone who came together to pull this off tonight.
- Bob
PS: I just wanna give a special thanks to Ken Frank who is the bass player in Personal Effects (and Margaret Explosion). He REALLY brings great bottom to both bands and we could not have done it without Ken.
Photos by Nicholas Gerber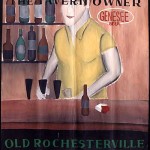 There is one undeniable fact. Don Scorgie had enough instinct, guts and taste to provide a platform for all of this. The whole thing would not have happened in Rochester without him. I want to thank him.
I did a series of paintings called "Local Icons" in 1988 and included him but I want to thank him here for some of the best times of my life.
I sent Rob the link to this blog and since he won't be able to make it [from Portland, OR] here were his comments:
"Andrij!
Cool story. I don't know if you remember, the very last club the Squirrels played in Rochester was Scorgies in summer 1993. We played a wedding and Manhattan Square Park after that, but Scorgies was it. In fact, I may be wrong, but I think we were the last band, or one of the last bands, to pretty much play there at all. After that, it became Token Joe's.
I still remember because we decided to toss out the set list and just go for it. We wound up improvising a lot and playing better than we probably ever did. I still remember making up some poetry rant about a Vietnam vet during "Heroine."
When the gig was over, I remember we all looked at each other and said, "why didn't we always play that way?" However, by then it was too late, and we had lost Jim and Brian, and Tony and Pete were on their way to Buddhahood world. It's weird, we never reunited, which may be cool because they're always sort of a letdown when they do happen. We're one of those "you had to be there" bands.
Ah, the old days.
It was a great ride.
Rock on and have a pint on me!
rob"
The Press Tones played Scorgies 11,652 times. I think. It may have been more. The Pistoleros played Scorgies twice. Not sure, I can't remember. The Crypt Kids didn't play at Scorgies but we sure hung out there alot. I know 'Open Season on Jim Freeze' didn't play Scorgies, I think Jim was banned from the bar at that point. The Folk Explosion may have played Scorgies, don't remember. The Chinchillas played at Scorgies a few times when it reopened later on. We played downstairs in 1992 or 1993 and we had our CD release party for "Retro" upstairs in the bar. It 1999 or 2000 and they may have changed the name to 'Token Joes'.
I don't have any pictures from the early days. I was studying photography at school and I didn't even carry around a camera. Oh well.
I met Richard Kaza at Scorgies. He managed The Press Tones and also brought in many national acts to the club. He opened and managed Idols and Freakazoid later on. It was great to see him when The Press Tones played at Abilene this past August.
At the Scorgies reunion show tomorrow I know I will see many people I haven't seen in a long time, and I probably won't remember them, but it should be an interesting evening.
Loving this blog. I really wish I could be at the show 11/21, but … can't. It all started so innocently. My friend Rick Birch intro'd me to Scorgies and New Math back in the day, I don't know, 1978 maybe? Big Daddy's? Got to meet some of these music people in Roch. Old friend Danny Deutsch was a part of it. I remember a party where Kevin Patrick was promising to buy a new stylus for the host if he would just play "Volunteers of America" one time.
But then in late 79 or 80, I came back from Calif. and met Paul and Peggi and reconnected with Martin — whom I'd known since before he got his first Nehru jacket — and we started talking about songs and ideas. Next thing you know, we're down in that basement six or seven days a week for most of the next two years. It was such a rich and rewarding time. We'd come up with ideas, work 'em out together, add 'em to a set list  and blast them out there. And people liked it! Eclectic, eccentric, Hi-Techs was a weird little rock n roll band, but the kids would dance, usually. We were together so much, it felt like family. And there were so many great friends in that crowd, in bands and the clubs and all the people around the whole "scene." I'm tempted to name all these names, but that would be pointless. You're mostly here.
So you look back 25 or 30 years to a little stretch you did between things — after college and California, before grad school, marriage and kids (and divorce) — and you think, that was special. That was a highlight. That was truly fine.
Long overdue! I asked Victor Tabinski who should write about Zenon, he referred me to Andy Tratch of the Urban Squirrels. Thanks, Victor!
Don't know what to say about Zenon – how can one describe the man…
I knew him as a kid [we met being in Ukrainian Boy Scouts together back in '68] but had drifted apart by high school until I ran into him -  waiting in line to get into the Devo show [1st tour] at the Triangle Theater.
We caught upon things, compared musical tastes & next thing ya know we got our first apartment together on Wisconsin & Main St in the City…
The rest is history: we spent many years together rockin' & rollin', abusing ourselves, listening to great music, going to great shows, hanging out at great bars [Scorgie's included] with great friends, working with the Chesterfield Kings all over the country, being ski bums in Vermont, and just enjoying life at it's best…
Zenon was my brother that I never had, could be the biggest asshole in the world, was always was willing to let you buy him a drink, would steal your drugs when you weren't looking, and could be hell to live with/be around…but would give you the shirt off his back & loved you to death…
I can [barely] remember helping each other many a time up/down the spiral staircase by the bathrooms at Scorgie's…We used to ride to all the bars to catch shows on my Kawasaki KZ400 [with Zenon wearing his brain-bucket helmet & clutching his beer]…I can even remember when Zenon had a stint DJing on Monday nights at the Penny Arcade [go figure]…
But most of all I remember Zenon's "Lust for Life" [yes, just like the Iggy song]  and the fact that music was such a huge part of his life: I still have his albums & listen to them [even though they're way scratched because we were always out of sorts when we played them back then]…
We lost Zenon on the 4th of July weekend over 20 years ago -  fittingly he had gone down to NYC to visit friends & to see The Butthole Surfers: he never came back…
What a waste…what an asshole..what a Zenon move…
Long live the memory of Zenon Pavlovych: The Great High and Mighty Most Exalted Grand Mystical King Farouk!
I went to Scorgie's on my birthday in 1985; a friend had recommended that I check out this new group in town, The Colorblind James Experience….he described them as "a bit different" and that I would enjoy the fact that they used vibes; since I was (and still am) a Tuned Percussion player, that was a big plus.
We arrived a bit early, and found out that there was an opening group called STARSHIP BEER! I thought, "Yeah, what a far-out name" but just how far out this group was I just did not know at the time; their set started out quiet enough, but grew in intensity, and their assault was unrelenting!! Imagine elements of Pere Ubu co-mingling with The Sun Ra Arkestra, creating this throbbing maelstrom of sound and you might get just a hint at how unruly it was….most people just left the room and escaped upstairs, but I and a few other brave listeners STAYED and revelled in the sonic din that was emanating from downstairs; as the set progressed, members of Colorblind James joined in on the rumblings, then after what seemed a small eternity (which in reality was about 45 minutes in total) the "Sonic Ritual" stopped.
After a suitable break, the Colorblind James Experience came out and knocked my socks off for the first time, the first of the many many times they would do so…….later on, I found out that Starship Beer ACTUALLY HAD A RECORD, and it was called "Nut Music As Free As The Squirrels!"  Needless to say, the title does not disappoint! But groups like them & Rochester's own HEALTH AND BEAUTY would inspire me to go from merely mucking about at home and seek out other like-minded music nuts to work with (they know who they are); years later, Phil Marshall kindly supplied me with a tape of Starship Beer's set from that very first show….it was intriguing to hear it again, but it kinda paled in comparison with Actually Being There!
Just a few years back the prestigious ATAVISTIC RECORDS re-issued the Starship Beer album as part of their "Unheard Music" series!
Was it Just another night of Music at Scorgie's?   I DON'T THINK SO!!!!!
Mike Rae
p.s. hey Phil it'd be great to hear that CBJE show again someday!!
Smell the band—live the legend was their motto, the legendary four who emerged from a long shadow cast by the Antoinettes to become Upstate's best-known girl punk band. Fueled by Salvatore's pizza and cheap beer, they got cheered on so many late nights at Schatzee's after they had their debut at Scorgies on a night when the Antoinettes were no-shows. (Although they had already played one gig in Cortlandt, that didn't count.) Sonic produced by Stiv Bators, who broke lead singer Betsy's heart for the final time after he was tragically hit by a car in Paris, their best-known hit remains Slaughter the Pig. Along with Original Sin, Girls in the Garage, a thrashed-out version of My Boyfriend's Back plus a dozen original songs, their double-header with Personal Effects at Scorgies seemed kind of unlikely, even for us—their biggest groupies. But if to my pathetic teenage mind PE's Bring Out the Jazz versus Betsy's He's a Rebel seemed an odd contrast, it was really no different than hearing 10,000 Maniacs on the same bill as the Violent Femmes. The excitement of seeing the Raunchettes repeatedly work their magic at Scorgies—the same place we worthless 15-year-olds (with fake IDs depicting us as age 22) caught the legendary Cramps, Fear, and finally Suicidal Tendencies ("punkers slamming" in the next day's Times-Union)—was totally unforgettable. They threw stuff. They spit. They yelled. The audience was largely irrelevant to them; abuse only made them stronger as they'd already become used to every kind of loser harrassing them. Their first Scorgies show was a victory, the penultimate triumph over Backstreets and all the other rotten venues they would play from Albany to Buffalo. Joan Raunchette moved away to Boston and Janice Raunchette split, but somehow new members GiGi and Geolyn didn't match the karmic power of an Irondequoit native. Regardless of whether you had the cassette bootlegs, the Bomp! The Raunchettes EP or Dave Anderson's Jargon Records The Raunchettes Scrapbook LP, the Raunchettes had an amazing raw power. We groupies caught up with Betsy a few years later in Van Nuys, California, but it didn't seem the same. You can take the punk chick out of Rochester, but the L.A. fish pond proved too elusive. Even to this day I proudly own a smelly, faded Raunchettes t-shirt with a safety pin through Betsy's face, still convinced they will be rediscovered by Maximum Rock-n-Roll and a new generation of worthless teenage punks.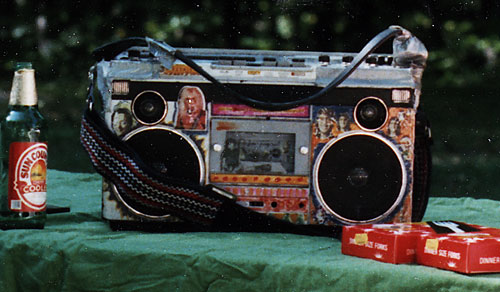 blaster aging gracefully – click photo for context
We made a list of our gigs as Personal Effects by referencing the dates on the stack of old posters and cassette tapes. Hard to believe we played Scorgies over seventy times and counting. I wish we'd had a blog back then to keep track of it all.
The sound system there was one of the best of any club we played and the room sounded great. We had this General Electric blaster that we used to duct tape up to the top of the wooden column in front of the bar at Scorgies and it made some damn good tapes. Arpad transferred a few of the tapes to cd.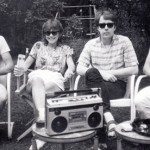 This thing was heavy, mostly steel, and it had separate tweeters and a solid bass output. It didn't need any "Stereo Enhancer" setting. There were two mics in the upper corners of the front face and on top there were two good sized VU meters with separate knobs for input levels. I remember dropping it out of my bike basket and it is featured in a boat up in the 1000 Islands in Duane Sherwood's video for "Nothing Lasts Forever". We took it everywhere and eventually ran it into the ground.
Here is a version of Taana Gardner's "Heartbeat" recorded live at the Peppermint Lounge on our blaster.
Audio clip: Adobe Flash Player (version 9 or above) is required to play this audio clip. Download the latest version here. You also need to have JavaScript enabled in your browser.
Around the last year Scorgies was open I joined the "Beers of the World" club.  I believe if you drank 100 different beers from around the world in 100 days or less, you got a case of different beers from breweries around the planet. You also got your name on a plaque which was put up with all the other people who became members and drank the 100 beers. I remember being very bummed when someone pried my name plaque off the board. I never found out why it was taken or whoever took it. Now's your chance to come clean!
I also remember one of my birthday's on New Year's Eve (not sure what year) when the Chesterfield Kings were playing in the basement.  Lead singer Greg Prevost somehow ended up on my shoulders and while carrying him all over the place he was pulling down the ceiling tiles (Scorgie loved this.) It was one of the most fun Birthdays I ever had.  It was a great bar and i miss it.
MUSIC TO REUNIONIZE BY:
New Math: Hot Sounds
Swing Set: You That I Want
The Insiders: Leave Me Alone
The BBBs: Tired Of Waiting (live at Penny Arcade, '82)
The Fadeaways: Trust
The Young Idea: My Baby's In Love
The Fugitives: Last Time (live)
The Ferrets: Play With Fire
Cousin Al & the New Generation: Zombie Twist
Invisible Party: Can't Seem To Make You Mine (live at Scorgies, '84)
The Raunchettes: Girls In The Garage
The Essentials: Wild Romance
Colorblind James Experience: First Day Of Spring (live at Jazzberry's '85)
Hi-Techs: A Woman's Revenge
The Rumbles: Hourglass Reunion
New Math: Older Women
Audio clip: Adobe Flash Player (version 9 or above) is required to play this audio clip. Download the latest version here. You also need to have JavaScript enabled in your browser.
46:51 length
You can also listen to Episode 1 of the Flower City Jukebox here: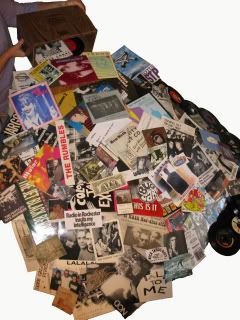 I see that on some of the posters (even a few I made) But I can't remember why it was Weekends By Scorgies!
Anyone remember?